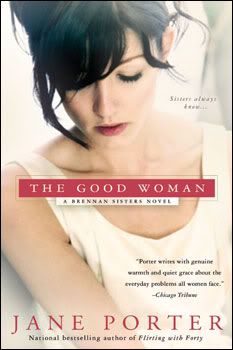 Is it possible to leave it all behind?
Meg Brennan Roberts has an "awakening" on an overseas business trip. Her life always has been satisfying with her husband and children, her siblings and her parents,and great career for an up and coming winery. But the trip opens her eyes to a different life...one with a man who wants her with a passion that has been lacking in her marriage.
This book was so full of emotions. I was in tears while reading about the return of Meg's mom's cancer. In anger at her sister Brianna's taunting. I cheered for sister Kit to get the backbone to want more from life. Uncomfortable with some of the choices that Meg makes. In love with the winery's owners.
Jane Porter made me feel like I knew these people. It had me thinking about this story while I wasn't reading it.Wondering "what if".
I liked Meg. I liked all of the sisters. Well except for Brianna :) . But I am an "oldest" sister- like Meg-.
I have felt a great responsibility for doing the right thing and watching out for her siblings. Trying to be the perfect person...and like Meg I have failed. Life goes on. I liked how this book wound its way through the lives of all of the family.
I really enjoyed this story! I'm looking forward to the next books in this series to see how the Brennan clan is doing. The next one is The Good Daughter and is due out in February.